Halloween Safety Tips
Posted on October 15, 2019 by datateam
Halloween is an exciting holiday for millions of kids around the U.S. However, it is also a busy time for emergency rooms and hospitals. Enjoying a safe Halloween takes certain knowledge, precautions and safety tips. From dressing up in a safe costume to avoiding a pedestrian accident, you can take steps to reduce your risk of suffering a serious injury this fall season. You and your family can enjoy an injury-free holiday by following a few general safety guidelines.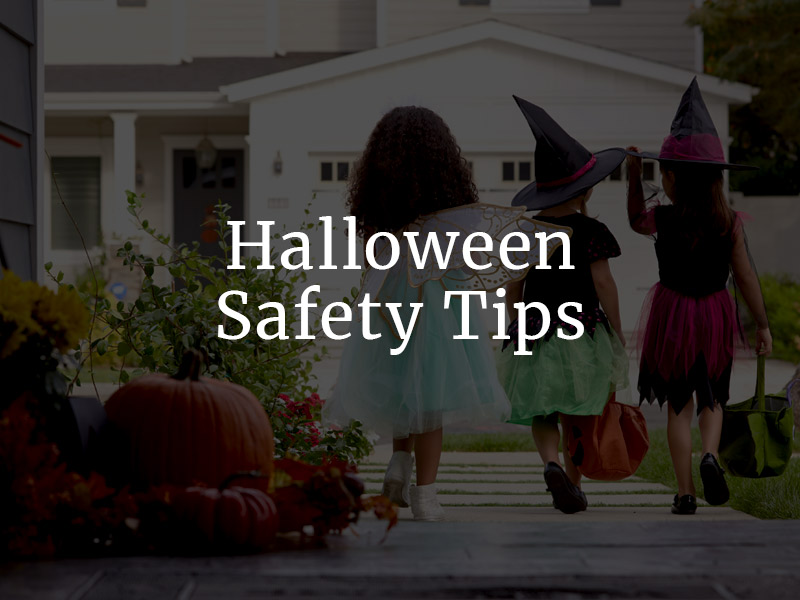 Safety Tips for Homeowners
Fire departments around the U.S. respond to an average of 10,100 fires during the three days around Halloween each year. From 2014 to 2016, these fires caused 30 deaths, 125 injuries and about $102 million in property destruction. Make Halloween a fire-safe holiday by being careful when you decorate. Do not use real candles in decorations, candelabras or Jack-o-lanterns. Use imitation candles such as flickering electric lights for the same effect without the risks. While cooking on Halloween, use stove and oven safety practices to avoid a house fire. Do not let children in the kitchen with you while cooking.
Avoid decorating with dried flowers, cornstalks, paper and other materials that could easily catch fire. When using electric lights and cords, do not overload a circuit. Inspect all cords and wires on reused decorations for cracks or wear and tear. Do not use costumes with trains, as they could present fire hazards. Purchase costumes made of flame-retardant materials. Do not place any Halloween decorations blocking the exits in your home. Decorate for trip-and-fall safety. Do not put décor in walkways or footpaths. If hanging décor overhead, make sure it is sturdy and secure.
Safety Tips for Pedestrians
Once you have decorated your home in the spirit of Halloween, focus your attention on trick-or-treating safety. As one of the main events of the season for most families, it is important to take measures to optimize child and pedestrian safety. Whether it is your child's 1st trick-or-treating adventure or the 10th, remind him or her of a few important safety tips.
Stay on the sidewalk
Do not cut through alleys
Look both ways before crossing a street
Never step out into traffic
Use a flashlight
Walk in groups
Stay in well-lit areas
Do not go into strangers' homes or cars
Stick to a specific curfew
Do not eat candy until inspecting it for contamination
Use a cellphone for emergencies
Never assume the right-of-way. Even if you know you have the right-of-way, do not assume a driver will yield it to you. Instead, wait for the vehicle to pass or come to a complete stop before crossing. Make eye contact with the driver to make sure he or she sees you and knows you intend to cross. Tailor costumes to help avoid trip-and-falls or vision obstructions. Always send kids trick-or-treating with a responsible adult.
Safety Tips for Motorists
As a driver on and around Halloween, you have a duty to drive safely and prudently. This includes following traffic laws and speed limits, yielding to pedestrians, and watching for crossing kids. Children often break pedestrian rules and cross the street when they should not. Keep a safe speed, especially in neighborhoods, and hover your foot over the brake. Be prepared to stop at any moment if a child enters the street illegally. Exit driveways and make turns carefully. Use your headlights to better see pedestrians and increase the visibility of your vehicle.
Never drive after drinking alcohol or taking any drugs. Even prescription medications could make you drowsy, dizzy or unable to safely control your vehicle. The rate of drunk driving is higher on most holidays, including Halloween. Do not assume you can have a few drinks and still drive. Make the streets safer by arranging for a sober ride. You could save a life this Halloween.