Meet The Staff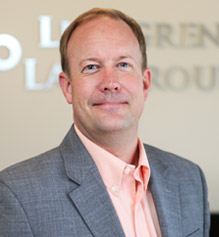 Attorney Scott Liljegren
Scott Liljegren is a very experienced and successful San Diego personal injury attorney and litigation trial lawyer. When asked by clients and colleagues about his relentless work ethic, Scott points to his upbringing in the Midwest, where he earned a B.A. in Economics from the University of Missouri, and his J.D. from Washburn University School of Law. While in law school, Scott was published twice in the Law Review, and he received numerous awards while competing for the Moot Court and Trial Advocacy teams in regional and national competitions.
During his final year of law school, Scott was accepted into the Navy J.A.G. program and received his commission as a Naval Officer. After passing the bar exam and graduating from officer training in Newport, Rhode Island, Scott was assigned as a Navy claims and litigation attorney in San Diego. He later served as an attorney for the 3-Star Admiral in charge of Naval Aviation on Coronado Island, and then went into private law practice, having reached the rank of Lieutenant. Scott is happily married with one terrific little boy. He actively volunteers with the Palomar Family YMCA, Rotary Club, Chamber of Commerce, Escondido Charitable Foundation, Grace Lutheran Church and Schools, and is a Leadership North County graduate.
Prior to forming Liljegren Law Group, Scott worked as an insurance defense attorney, which is very important because he knows how opposing defense lawyers think in personal injury cases. His next step was to form a 4-attorney partnership, based in North County San Diego, with an emphasis on plaintiff's personal injury and other types of consumer law. Then, with a large number of terrific clients, as well as an incredible staff of attorneys, paralegals, clerks, and support staff, Scott created Liljegren Law Group in order to provide excellent Personal Injury services to clients throughout Southern California. With multiple offices and plans for more, the goal of Liljegren Law Group is to be near you and there for you. Scott is very proud of the results that have been earned for his clients. You can learn about some of these recent results by clicking "case results" . Liljegren Law Group looks forward to serving you.
Injured in Temecula or Escondido? Liljegren Law Group also serves the areas and can take your case. Give our lawyers a call to schedule your free case evaluation. We can help you get the compensation you deserve.