San Diego Bicycle Accident Lawyer
Because of the beautiful weather and variety of people in San Diego, there is always something to do outside. From beach cruising to street cycling, cyclists are always nearby in California. And while San Diego is a bike friendly city and county, accidents do still occur regularly. If you've been injured while cycling, call our San Diego bicycle accident attorneys for help today.
Scott Liljegren of the Liljegren Law Group has decades of experience helping bicycle accident victims across San Diego. Our goal is to hold negligent drivers accountable and keep our city not only bike friendly, but bike safe. Schedule your free personal injury lawsuit case evaluation today.
Common Causes of Bicycle Accidents in San Diego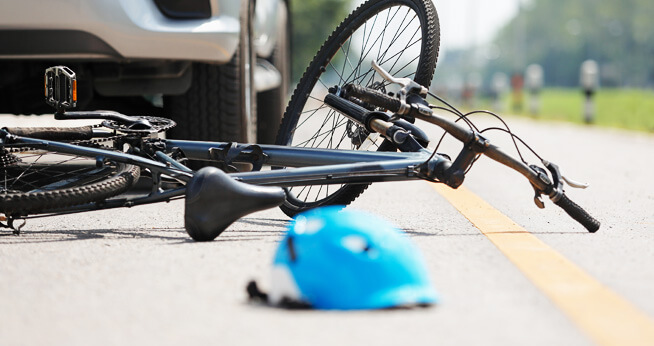 In 2012, there were a reported 19,091 cycling casualties in the United States. This included 15,751 minor injuries, 3,222 serious injuries, and 118 deaths. Approximately 75% of these casualties occurred in urban areas during daylight hours. Some of the most common causes of these accidents include:
Failure to See Cyclist.
Unfortunately for cyclists, drivers are rarely looking out for bicycles. Instead, they have their eyes set on larger objects like cars, trucks, and buses. When a cyclist is on the road, it's easy for a driver to not notice or fail to notice until it's too late.  This can also occur during sunrise and sundown, when the position of the sun affects driver's and cyclist's vision, as well as in the early morning and evening when there is a very low level of light.
Careless Driving.
Even when the cyclist is visible, drivers can cause accidents with careless driving. This may include driving too fast or out of control. In these cases, cyclists may actually be hit by the driver or driven off course out of anticipation for potential contact. Many cyclists are also "doored" by careless drivers and passengers opening their car doors right in front of the cyclist.  Often, this knocks the cyclist right into oncoming traffic and has lead to many fatalities.  In September, a new law in California will go into effect to try and combat this. It states that if drivers cannot leave 3 feet of space, they must slow down and pass only when it would not endanger the cyclist's safety.
Improper Passing. When a driver approaches a cyclist and is looking to pass, it is important to provide adequate spacing. Too often, a driver will overtake a cyclist without giving enough room and clip them on the way by.
Faulty Equipment. Poorly designed or manufactured bicycle equipment can lead to wrecks or malfunctions resulting in injury. This may involve tires, spokes, gears, seats, frames, or any other feature or part.
Poor Conditions. When the road is icy or wet from inclement weather, it can be particularly difficult for bicycles to grip the road and make turns. At night time, it's also hard for drivers to see cyclists on the road. Poor conditions are a leading cause of bicycle accidents.
These are only some examples of negligent behavior leading to serious injuries for cyclists after a traffic collision. To review your unique accident in depth, contact our San Diego bicycle accident lawyers today to schedule a free, no obligation consultation.
Common San Diego Bicycle Accident Injuries
Bicycle accidents range in severity depending on the conditions, type of contact, and force at which the accident occurred. Regardless of cause, here are a few of the most common injuries sustained:
Road Rash. Because bicycles do not provide any protection from the road surface, cyclists often end up sliding across asphalt or concrete. The result is road rash, which is a combination of burns and cuts. Road rash can range in severity, from simple lacerations to severe third degree burns.
Broken Bones. Broken and fractured bones often result from high-impact accidents in which the cyclist's body is thrown against another object. Bone breaks or fractures typically occur in arms, legs, wrists, shoulders, collarbone, or neck.
Head Injuries. While wearing a helmet can reduce the severity or likelihood of head injuries, they can't prevent everything. Head injuries occur in between 22 and 47 percent of bicycle accidents.  Common head injuries include lacerations, bruises, jaw dislocation, concussion, or brain damage.
San Diego Bicycle Accident Fatalities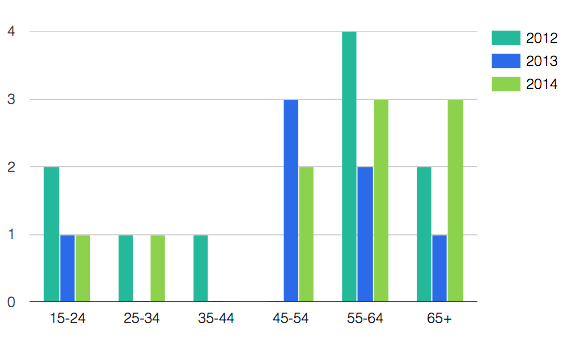 Source: San Diego Medical Examiner Annual Reports
In this three year time period, San Diego County saw 27 deaths, only one of which was female. Year over year, the most common age group killed are male riders between 55 and 64 years old. No one younger than 15 was killed during the same time frame.
is Biking in San Diego Dangerous? 
[wpdatachart id=4]
Source: SD County Medical Examiner Report, 2015
From mountain biking to street biking and beach cruising, bicycling is a popular sport and activity across Southern California, and in particular San Diego. Motor vehicle drivers and bicyclists must stay equally alert and avoid participating in any form of distracted driving. Legally, riders under 18 must wear helmets for added protection; all riders are encouraged to wear helmets, however. That said, the chart above show fewer people died in a bike accident than motorcyclists and pedestrians. In 2015, nine bicyclists were involved in a fatal bike accident compared to 48 motorcyclists and 92 pedestrians.
What to Do After a Bicycle Accident in San Diego
If you have sustained road rash injuries, broken bones, head injuries, or any other negative side effects or conditions related to a bicycle accident, it's important to proceed with caution. In addition to seeking immediate medical attention, you should seek out a personal injury lawyer to help guide you through the process. Try to gather as much information about the accident, including the driver and car (if hit by a car), and take photos.  You may be able to recover damages for your medical bills and pain and suffering.
Liljegren Law Group – San Diego Bicycle Accident Attorneys
At the Liljegren Law Group, we believe in protecting the rights of San Diego's citizens. If you were injured in a bicycle accident and believe you are entitled to damages to cover medical bills, lost wages, pain and suffering, or anything else, let us help. Contact our San Diego bicycle accident lawyers today for more information.