San Diego Bicycle Accident Lawyer
Because of the beautiful weather and variety of people in San Diego, there is always something to do outside. From beach cruising to street cycling, cyclists are always nearby in California. And while San Diego is a bike friendly city and county, accidents do still occur regularly. If you've been injured while cycling, call our San Diego bicycle accident attorneys for help today.
Bicycle accidents can be traumatizing because they often involve lightweight vehicles colliding with heavy machinery. Injuries bike riders sustain during a car-involved collision are often much more serious than injuries a car driver may sustain.
This gap in driver-biker injury increased after California passed its new helmet laws, allowing riders over the age of 18 to ride without a helmet. After an accident, it can be difficult to find the motivation or resources to address the damage caused by the incident. This is where a skilled San Diego bike accident attorney can help. A legal professional with experience in bike-related accidents can help you recover while still pursuing legal recourse to recover for your damages.
What to Do After a Bicycle Accident in San Diego

If you have sustained road rash injuries, broken bones, head injuries, or any other negative side effects or conditions related to a bicycle accident, it's important to proceed with caution. In addition to seeking immediate medical attention, you should do the following:
Get medical attention if you were seriously hurt.
Call the police.
Try to gather as much information about the accident, including the driver and car (if hit by a car), and take photos.
Look for witnesses in case the driver takes off.
Seek out a bicycle accident lawyer to help guide you through the process.
Why Do You Need a Bike Accident Attorney?
Attorneys with experience in bicycle accidents possess invaluable information for injured riders. Providing a wealth of knowledge and resources, skilled lawyers build strong cases that help their clients achieve success.
San Diego bicycle accident attorneys are a wealth of information and tools. Some of the resources and services that an attorney can provide are:
Investigation into your case, including scanning the evidence you've brought to the table
Contacting and interviewing witnesses
Contacting expert witnesses, as they pertain to your case
Helping you determine a fair settlement figure
Negotiating settlements/assisting in mediation
Gathering evidence
Directly filing your claim
Scott Liljegren of the Liljegren Law Group has decades of experience helping bicycle accident victims across San Diego. Our goal is to hold negligent drivers accountable and keep our city not only bike friendly, but bike safe. Schedule your free personal injury lawsuit case evaluation today.
Contact Liljegren Law Group for a FREE consultation (619) 312-6703
Determining Fault
Lawyers at Liljegren are knowledgeable about how the state of California determines fault. California is a fault-based state that exercises pure comparative fault law. Comparative fault dictates that all parties involved in an accident possess some degree of fault. When you bring your court to trial, this degree of fault – represented as a percentage figure – impacts the compensation you receive.
Because California practices pure comparative fault, all parties have the right to pursue legal action to recover for damages they've sustained in an accident. This means even an individual with a 70% fault rating can file a personal injury claim. The caveat to this, however, is that the court multiplies your fault rating with your gross compensation. The court then subtracts the resulting product from your total.
Fault in Bike Accidents
In bike-related accidents, it is common for the driver involved to possess most of the fault. With the rate of accidents caused by distracted driving steadily increasing over the last decade, many bicycle accidents result from driver-related factors. Despite this, bicyclists do answer for their portion of the blame because of the state's comparative fault laws.
For instance, a biker who was speeding at the time of the accident possesses a portion of the blame, even if the driver was texting and driving, because they were not following California's bike law. Both parties' missteps count when discussing settlement through mediation and within the court. An attorney cannot erase your mistakes. However, they can investigate your case to make sure that your settlement does fairly reflect your proportion of blame in comparison to the defendant. This is crucial in settlement negotiation.
What Is Settlement Negotiation?
Before a court hears a case via trial, all plaintiffs have the option to pursue mediation with the driver's insurance claims adjustors. Liljegren Law Group can help you navigate the negotiation process, which is oftentimes preferable to immediately taking your case to court.
Mediation does not involve a strict designation of fault percentages, nor does it come with the added court fees that would come out of your gross compensation. Instead, both parties discuss what fair settlement looks like after considering all evidence and the roles both parties played in the incident.
Our personal injury lawyers will help you determine a fair ballpark figure you can use to either reject or accept an offer. Moreover, they will advise you in what to say – and what not to say – to insurance adjustors. During a mediation session, your attorney will negotiate with the claims adjustors on your behalf. This prevents them from taking advantage of you. For instance, the first offer that claims adjustors make is not typically indicative of the damages you've sustained. This is an attempt to take advantage of claimants who aren't completely aware of the damages they can claim.
What Damages Can a Plaintiff Recover?
With previous talk of what damages you're entitled to claim, you might wonder what damages are. Damages include bodily and non-physical injuries directly caused by an accident. For instance, the following are the most common damages claimed in bike accident cases:
Current medical expenses (examination, treatment, surgery, emergency expenses)
Recurring medical expenses (prescription medication, physical therapy, medical equipment)
Therapy/family therapy
Lost wages to account for time spent recovering
Diminished ability to earn, if your accident resulted in disability
Pain and suffering, or emotional distress
Humiliation and/or embarrassment
Personal injury claims differ from insurance claims in that they don't just account for costs associated with bodily damage and/or property damage. Personal injury damages include the emotional and psychological consequences of an accident. You can discuss all types of damages you think you qualify to claim with an accident lawyer from Liljegren Law Firm.
Why Is It Dangerous to Ride a Bike in San Diego?
From mountain biking to street biking and beach cruising, bicycling is a popular sport and activity across Southern California, and in particular San Diego. Motor vehicle drivers and bicyclists must stay equally alert and avoid participating in any form of distracted driving. Legally, riders under 18 must wear helmets for added protection; all riders are encouraged to wear helmets, however. That said, the chart above show fewer people died in a bike accident than motorcyclists and pedestrians. In 2015, nine bicyclists were involved in a fatal bike accident compared to 48 motorcyclists and 92 pedestrians.
Riding a bike in any busy town or city comes with risks. Bicycles operate on roadways with passenger vehicles, meaning they're subject to following the same traffic laws as cars. However, drivers don't always see bicyclists as equal partners on the roadway – in fact, some drivers don't see bicyclists at all.
Statistically, many bike-related accidents result from a lack of attention on the driver's part. Bikers are at risk while riding in busy towns like San Diego in part because the city presents so many roadway pedestrians and driver distractions. External distractions compound with driver-created issues like distracted driving, making roadways extremely dangerous for bikers, especially during times of high-traffic.
Common Causes of Bicycle Accidents in San Diego
In just one year there were a reported 19,091 cycling casualties in the United States. This included 15,751 minor injuries, 3,222 serious injuries, and 118 deaths. Approximately 75% of these casualties occurred in urban areas during daylight hours. Some of the most common causes of these accidents include:
Failure to See Cyclist.
Unfortunately for cyclists, drivers are rarely looking out for bicycles. Instead, they have their eyes set on larger objects like cars, trucks, and buses. When a cyclist is on the road, it's easy for a driver to not notice or fail to notice until it's too late.  This can also occur during sunrise and sundown, when the position of the sun affects driver's and cyclist's vision, as well as in the early morning and evening when there is a very low level of light.
Careless Driving.
Even when the cyclist is visible, drivers can cause accidents with careless driving. This may include driving too fast or out of control. In these cases, cyclists may actually be hit by the driver or driven off course out of anticipation for potential contact. Many cyclists are also "doored" by careless drivers and passengers opening their car doors right in front of the cyclist.  Often, this knocks the cyclist right into oncoming traffic and has lead to many fatalities.  In September, a new law in California will go into effect to try and combat this. It states that if drivers cannot leave 3 feet of space, they must slow down and pass only when it would not endanger the cyclist's safety.
Improper Passing. When a driver approaches a cyclist and is looking to pass, it is important to provide adequate spacing. Too often, a driver will overtake a cyclist without giving enough room and clip them on the way by.
Faulty Equipment. Poorly designed or manufactured bicycle equipment can lead to wrecks or malfunctions resulting in injury. This may involve tires, spokes, gears, seats, frames, or any other feature or part.
Poor Conditions. When the road is icy or wet from inclement weather, it can be particularly difficult for bicycles to grip the road and make turns. At night time, it's also hard for drivers to see cyclists on the road. Poor conditions are a leading cause of bicycle accidents.
These are only some examples of negligent behavior leading to serious injuries for cyclists after a traffic collision. To review your unique accident in depth, contact our San Diego bicycle accident lawyers today to schedule a free, no obligation consultation.
Common San Diego Bicycle Accident Injuries
Bicycle accidents range in severity depending on the conditions, type of contact, and force at which the accident occurred. Regardless of cause, here are a few of the most common injuries sustained:
Road Rash. Because bicycles do not provide any protection from the road surface, cyclists often end up sliding across asphalt or concrete. The result is road rash, which is a combination of burns and cuts. Road rash can range in severity, from simple lacerations to severe third degree burns.
Broken Bones. Broken and fractured bones often result from high-impact accidents in which the cyclist's body is thrown against another object. Bone breaks or fractures typically occur in arms, legs, wrists, shoulders, collarbone, or neck.
Head Injuries. While wearing a helmet can reduce the severity or likelihood of head injuries, they can't prevent everything. Head injuries occur in between 22 and 47 percent of bicycle accidents.  Common head injuries include lacerations, bruises, jaw dislocation, concussion, or brain damage.
San Diego Bicycle Accident Fatalities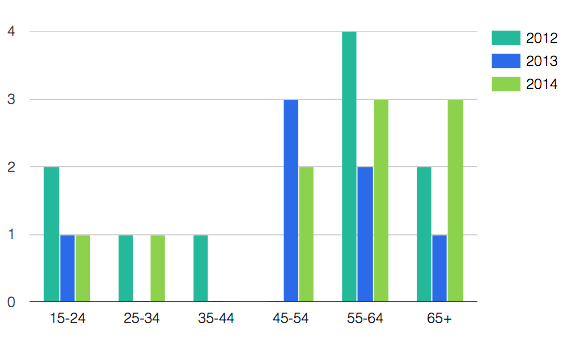 Source: San Diego Medical Examiner Annual Reports
In this three year time period, San Diego County saw 27 deaths, only one of which was female. Year over year, the most common age group killed are male riders between 55 and 64 years old. No one younger than 15 was killed during the same time frame.
Contact a San Diego Bicycle Accident Attorney
Liljegren Law Firm has a firm grasp on the different aspects of a successful bicycle accident case. Our firm has worked on many different personal injury cases resulting in settlements that fairly reflect our clients' damages. Some of our most successful cases include:
A young man burned by a restaurant's outdoor fire pit. Liljegren Firm represented this individual, taking part in extensive litigation. This case resulted in a settlement of $6,250,000, established in a way that covered our client financially for life.
A five-year old badly injured by their neighbor's pit bull while they were babysitting. The dog escaped from the neighboring unit in their complex, tearing the child's cheek. Liljegren helped the parents of this child recover $1,124,093 in damages from the dog owners and additional $35,000 from the housing complex the dog escaped from.
An ex-cop's previously injured back, which lead to medical discharge, was re-injured during a car accident. Liljegren Law Firm co-counseled the client in this case, which resulted in a settlement of $856,100.
After an accident, one of the first steps an injured individual should take is consulting an attorney. Even just utilizing a free consultation to determine if your case is viable can mean the difference between wasting money on a lawsuit or cutting your losses. Some individuals refuse to press charges in personal injury incidents, because they are hesitant about the legal process.
However, these individuals often miss out on the opportunity to recover damages they could have received by consulting an attorney. Reach out to Liljegren Law Firm if you've recently suffered a bike-related accident – our services smoothly guide clients through the legal process with their best interest in mind.