How to Sue Your Home Insurance Company
Posted on August 16, 2019 by datateam
Homeowners insurance covers expenses after disasters such as fires or earthquakes. A standard homeowners insurance policy protects a policyholder financially for structural damages that occur due to natural disasters and theft. Different policies protect a home's structure and personal belongings, as well as provide benefits for living expenses.
As a policyholder, you have the right to expect your homeowners insurance company to treat you in good faith. Good faith refers to honest and fair dealings. The insurance company should follow all rules and best practices when handling your claim. Failure to do so, resulting in harm such as denied coverage or delayed payments, could give you grounds to file a lawsuit against the insurance provider in California.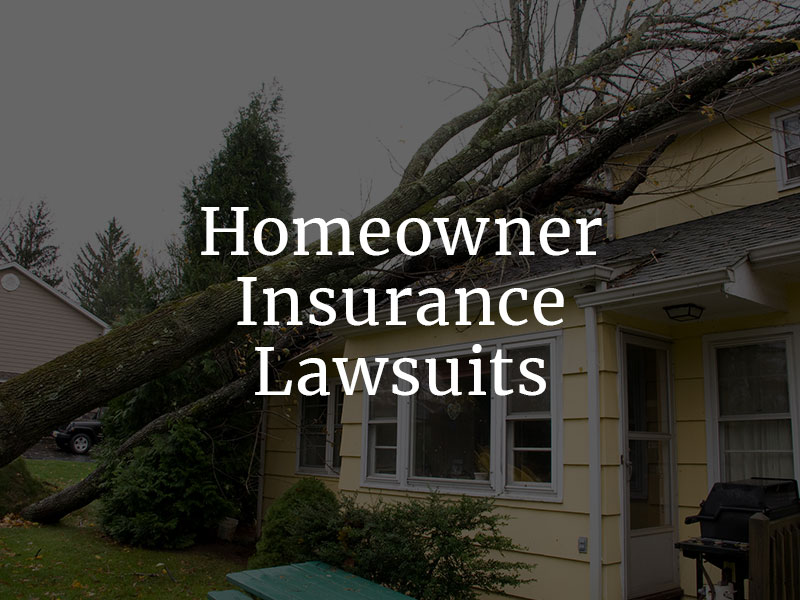 When Can You File a Bad Faith Insurance Claim?
You may be able to bring a claim against a homeowners insurance company in California if it handles your claim in bad faith. California has a state law, the Fair Claims Settlement Practices Regulations, that dictates how insurance companies must treat their clients and handle claims. This law states that insurance companies must communicate openly and honestly with clients. An insurance company cannot knowingly misrepresent facts or otherwise treat a client unfairly.
Refusing to offer an adequate settlement
Misinterpreting the language of a policy
Denying a settlement although the claim is valid
Holding onto a payment for an unreasonable amount of time
Lying to a claimant about a case
Failing to properly investigate the accident
Read your homeowners insurance to find out what the company may owe you during a claim. If you have reason to suspect homeowners insurance bad faith, you or your lawyer must file your tort claim within the statute of limitations. You have four years to file a breach of contract claim. The insurance company may offer to resolve the issue through an internal or administrative appeal. If not, your case may go to court.
Your Legal Rights in California
If an insurance company denies an administrative appeal you filed to request a different claim decision, you have the right to continue with a breach of contract lawsuit against the provider. A civil lawsuit could result in a financial award for the original property damages you filed the homeowners insurance claim for, as well as additional damages for the trouble the insurance company caused. A courtroom in California may order the homeowners insurance company to pay additional fines, interest and restitution for committing bad faith against you.
A first-party claim is against your homeowners insurance company for dealing with your claim in bad faith. These types of claims typically involve breaches of contract. A third-party insurance claim is against another person's insurer. Third-party insurance claims are often based on liability, asserting the covered person owes the claimant financial recovery for causing his or her damages. An insurance lawyer in San Diego could help you with either type of insurance bad faith claim.
When To Hire a Home Insurance Attorney
A homeowners insurance company behaving in bad faith could put a family out of its home for weeks or months. Instead of promptly dealing with the claim, offering a fair settlement and enabling the family to move back in within a reasonable time, bad faith could excessively delay a claim and lead to greater out-of-pocket expenses. Injured clients can hold bad faith homeowners insurance companies in California accountable for their actions.
It may be in your best interest to hire a home insurance attorney if a provider unfairly denied your claim, offered a low settlement or delayed a payout. These are common bad faith practices an attorney can help you respond to with the correct legal action. Filing an administrative appeal or civil lawsuit could help your family obtain the compensation you need from the insurance provider. An injury lawyer could help you establish an insurer's bad faith and win your case.