Best & Safest Places to Trick-or-Treat in San Diego 2019
Posted on October 14, 2019 by datateam
For many families, it would not be Halloween without trick-or-treating. Showing the world your costume and gathering candy from the neighbors is a childhood staple. Unfortunately, trick-or-treating can also present health and safety concerns in the modern world. Distracted or drunk drivers and dangerous criminals can make trick-or-treating unsafe for unsuspecting families. Celebrate the season in safety this year by heading to one of the best places in San Diego to trick-or-treat.
Best Neighborhoods for Trick-or-Treating in San Diego, CA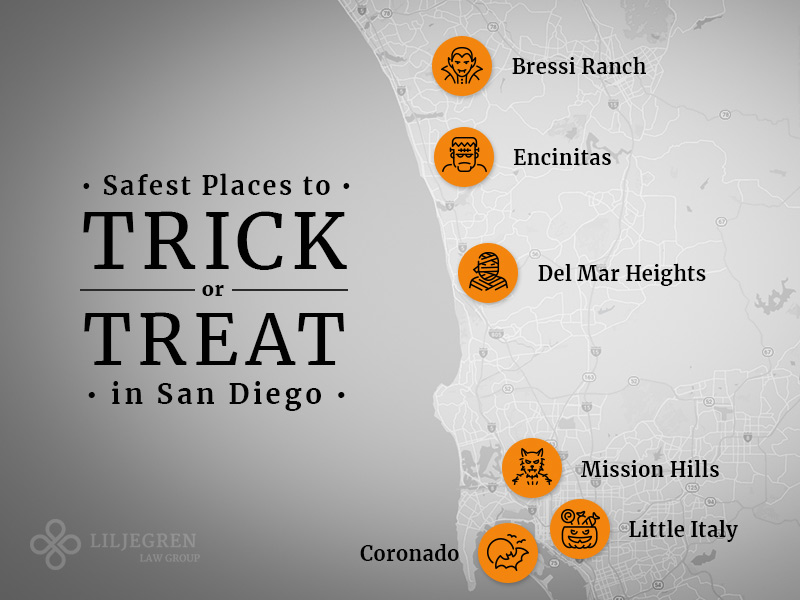 Your neighborhood in San Diego might not be the most ideal for trick-or-treating, especially if most of your neighbors do not have kids or the crime rate is high. If you are new to town, ask your neighbors what it is usually like around Halloween. When in doubt, play it safe by driving to a nearby part of town with a reputation for safety, lots of candy and Halloween fun for the whole family.
Mission Hills: Mission Hills is a popular neighborhood for families in San Diego on Halloween. Homes boast extravagant decorations and plenty of candy for the almost 500 children they expect to see at each door every year.
Bressi Ranch: The families in Bressi Ranch, Carlsbad, often go all-out on Halloween. Many pay for professional decorations to really frighten trick-or-treaters. The homes are also close together, making for easy trick-or-treating and less time in the road.
Little Italy: Try out the 13th annual Trick-or-Treat on India Street for an organized event in Little Italy. On October 25th, from 5:30 to 7:30 p.m., kids of all ages can dress up and go trick-or-treating through the neighborhood, starting with a kick-off at the Piazza della Famiglia.
Del Mar Heights, Encinitas, Miramar, Santa Fe Hills, Coronado, Carmel Mountain Ranch, Carlsbad Village and Kensington are also good neighborhoods in San Diego for trick-or-treating. Many host kid-friendly events such as trunk-or-treat or carnivals for families who do not wish to brave standard trick-or-treating this Halloween. No matter where your family ends up searching for goodies, do so safely. Travel in a group and teach kids pedestrian safety rules before heading out. Always inspect your children's candy before letting them dive in.
Places to Go
Traditional trick-or-treating is not the only way you can celebrate Halloween in San Diego. You and your family could also enjoy local events, fall festivals and organized trick-or-treating outings within your community. City events can provide family-friendly fun for all ages. Wander outside your regular neighborhood this year to celebrate the season at exciting local attractions.
LEGOLAND Brick-or-Treat Party Nights: Head to LEGOLAND on select nights for Halloween-themed fun from 5:00 p.m. to 9:00 p.m. During October, Kids Free San Diego means general admission is free for one child per paid adult.
Haunted Aquarium: University of California San Diego's Birch Aquarium is hosting a Halloween event from October 25th-27th, 6:00 p.m. to 9:00 p.m. Enjoy a nighttime trip through the aquarium, live music, spooky stories, games, crafts and more.
Balboa Park Halloween Family Day: Take the whole family for a fall adventure at Balboa Park on October 26th from 11:00 a.m. to 4:00 p.m. Museums are treating kids 12 and under to free tickets and themed craft projects. Also, enjoy a costume parade and carnival-style games.
San Diego has dozens of fall- and Halloween-themed events taking place throughout October. Whether you are searching for a couple's night out or a day of fun for the whole family, you are sure to find a match at the Balboa Park Haunted Trail, the Halloween Carnival at La Jolla Recreation Center, Witching Hour at the Westgate, Del Mar's Scream Zone or one of the city's many other attractions. Enjoy a Halloween without disaster with a few safety strategies.