11 Safety Tips for Concertgoers
Posted on July 19, 2019 by datateam
Going to a concert in San Diego could be the highlight of your summer – or it could end with a trip to the hospital. You may not be able to prevent every concert-related incident, but you can take steps to better protect yourself and your friends while attending a show. These 11 safety tips can help you avoid disasters, assaults and injuries at your next concert in San Diego. If you do suffer some type of injury, reach out to a local injury attorney for legal counsel. You may have a case against an individual or the concert venue.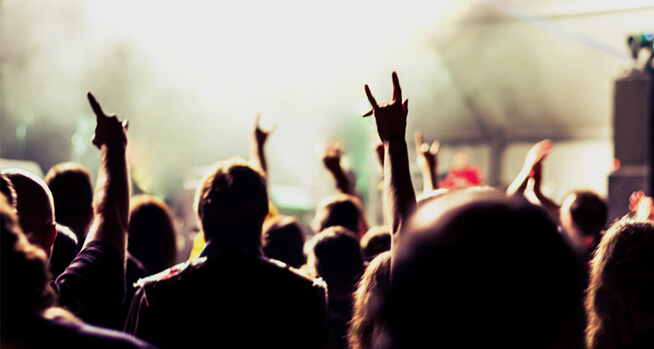 Wear the Right Shoes
Stubbed toes, slip-and-fall accidents and crushed feet in a mosh could all be painful injuries that put a damper on your concert experience. Invest in the proper footwear to protect your toes, feet and ankles during the show. Wearing closed-toed, nonslip shoes can decrease your risk of accidents.
Go With Friends
Avoid going to a concert alone, as this could expose you to risks such as getting lost, going home with a stranger or becoming the target of a crime. Criminals may search concerts for lone guests to target for muggings, sexual assaults, drugging, date rape or kidnapping. Go with a group of friends for better protection.
Get There Early
Arrive on time or early for the best parking spots. Find a well-lit spot close to the arena, if possible. Arriving early can help you avoid chaos in the parking lot and a fender bender. It could also help you avoid the bulk of the crowds when heading inside.
Lock Up Your Valuables
Leave valuable items you do not need with you at home. If you must take items with you, such as a GPS or camera, lock them in the trunk of your vehicle while you enjoy the show. Parking lot break-ins are common at certain concert stadiums, and leaving valuable items in the cab of the car could entice criminals.
Pay Attention to Your Surroundings
Concerts are fun, but do not get so caught up in the moment that you lose track of important safety tips. Pay attention to where you are, where your friends are, what you are drinking and the people around you. You might notice suspicious activity or a premises hazard that helps you avoid accidents.
Follow the Venue's Rules
Concert venues often have rules in place for concertgoer safety, such as what not to bring and how to dress. Look up these rules before you go. Do not bring any weapons or other items the venue does not allow. Dress appropriately and do not do anything that could get you kicked out early.
Search for Emergency Exits
When you arrive at the venue, immediately locate the emergency exits in the building. Find the one closest to you. If you notice a fire hazard blocking the exit, such as a pile of chairs or stage equipment, notify someone to remedy the issue. Knowing where the exits are before an emergency happens could make an important difference.
Watch Your Drinks
Never leave your drink – alcoholic or nonalcoholic – unattended at a concert. Criminals may try to slip sedatives and date-rape drugs into unattended drinks to commit crimes against the unsuspecting drinker. Leave your drink with a trusted friend if you need to go to the bathroom or the parking lot.
Pick a Meet-Up Location
You and your friends should decide on a meet-up spot in case something separates you during the show. Your cellphones might die, you could lose your phone or you might not have cell service in the building. Choosing a meet-up location can ensure you find your way back to each other by the end of the night.
See Something, Say Something
If you see anything that gives you cause for concern, whether it is a strange person lurking outside the venue or an exposed cord that could cause a trip-and-fall accident, say something to authorities. You could prevent injuries to yourself and others.
Know When to Leave
Do not be afraid to leave the concert early if things get too rowdy. If you feel scared or uncomfortable at any time during a concert, tell yourself it is time to go. No ticket price or band is worth your safety.