What to do After Someone Hits Your Parked Car
Posted on October 21, 2019 by datateam
If you return to your car in San Diego only to discover someone hit it, stay calm. You may not have to pay for repairs out of pocket if you take the correct steps. In California, it is against the law to hit a parked vehicle and drive off (hit-and-run). If the other driver left his or her information, you will have what you need to file a claim. Otherwise, you may need to take steps to launch an investigation before bringing a claim.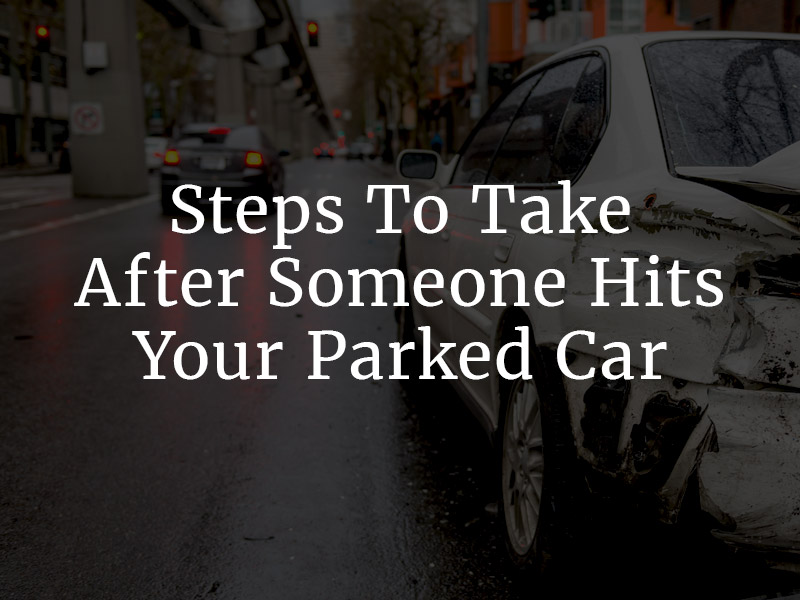 Call the Police for a Hit-and-Run
Any hit-and-run, even one that causes minor damages, is a reason to call the police. The police may be able to solve the hit-and-run and identify the at-fault driver. The police can help you gather evidence such as statements from eyewitnesses, photographs of your damaged vehicle and footage from surveillance cameras.
If the police identify the driver that struck your vehicle, that driver could be legally responsible for your damages. He or she may also face criminal charges for hit-and-run. You will only need to call the police for a parked car accident when the other driver gives his or her information if it caused injuries, deaths or more than $1,000 in collective property damages.
Gather Information
Whether or not it was a hit-and-run, collect information from the scene of the parked car accident. Check for a note if you were not at your vehicle. If the driver remained at the scene to wait for you, get his or her name, contact information, name of the insurance company and license plate numbers. Take photographs and videos of your property damage and the surrounding scene of the accident. Write down your description of the accident: when you returned to your vehicle, whether the other driver left a note, if you called the police, etc. Details will be important when reporting the crash to an insurance company later.
Do You Need to File a Claim?
You should file an insurance claim after someone hits your parked car in San Diego. Otherwise, you may end up paying for your damages out of pocket. An insurance claim through your insurer or the at-fault driver's could cover the costs of vehicle repairs and any medical bills. Since California is a fault state, the ideal party to hear your claim will be the at-fault driver's insurer. In a hit-and-run case, however, this may not be possible.
If the driver that hit your vehicle stuck around or left a note, contact that party's insurance company to report the collision. Stick to the facts of the case as you know them and do not speculate as to how the collision occurred. Politely decline to give the claims adjuster a recorded statement, as this may come back to hurt you later. The insurance company should offer you a settlement for your damages. If the company denies your claim or offers less than you believe your case is worth, hire an attorney for assistance.
In a hit-and-run case, your only option may be to file a claim with your auto insurance company. Call your insurer as soon as possible to report the hit-and-run. Giving as many details as you can will be important with this type of claim, so the insurer does not think you are trying to commit insurance fraud. File a claim for your property damages and follow the agent's instructions for what to do next. You will most likely need to bring your vehicle to an approved auto shop for a repair estimate before receiving a settlement.
Contact a Local Accident Attorney
A car accident attorney can be an invaluable resource after someone hits your parked car in San Diego. A lawyer will have years of experience handling these types of accident cases. An attorney could investigate the crash, help you gather evidence and damage documentation, take photographs, and deal with insurance companies on your behalf. If the at-fault driver's or your insurance company is refusing to offer coverage, a lawyer can help you appeal the denial or take the insurer to court for a bad faith claim. A lawyer can help you fight for fair compensation after someone else hits your parked vehicle.
Liljegren Law Group has several locations in San Diego including, Temecula and Escondido. If you have any questions regarding your accident claim, contact an Escondido car accident lawyer. Or visit out contact page and tell us about your case.