Slip and Fall Statistics in the United States
Posted on February 13, 2019 by datateam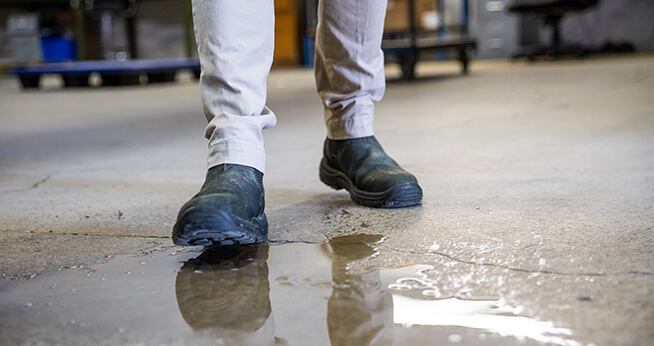 A slip and fall may not sound like a serious injury, but the reality is these incidents result in significant economic damages and can potentially lead to life-altering injuries. The National Floor Safety Institute (NFSI) regularly collects and reports slip and fall accident data in the United States, and some of the reported statistics are startling.
Slip and fall incidents are responsible for roughly half of all accidental deaths that occur in the household. Most fall injuries sustained in the home occur at ground level.
Slip and fall accidents lead to about eight million emergency room visits in the United States every year.
Although women generally experience slip and fall accidents more often than men, men and women die at roughly the same rate from slip and fall accidents.
About 5% of all people who suffer slip and fall accidents experience a fracture. Hip fractures are the most common fractures sustained from slip and fall incidents, and older adults are generally more susceptible to this type of fracture.
Slip and fall accidents are the leading cause of accidental death for adults over the age of 85.
About 60% of all deaths of individuals over the age of 75 involve slip and fall incidents.
About one in three adults over 65 will experience a slip and fall injury at some point. About 10% of those who fall will suffer serious injuries.
Most slip and fall accidents occur in doorways, stairs, ramps, ladders, and uneven surfaces.
Slip and fall accidents are the primary cause of missed days of work. About 22% of all work-related slip and fall incidents result in 31 or more days of missed work.
Slip and fall accidents are also the leading cause of workers' compensation claims. About 85% of workers' compensation claims involve an employee slipping on a wet surface.
Floors and flooring materials cause about two million falling incidents each year.
Risk of suffering a slip and fall injury generally increases with each decade of life.
Roughly 60% of nursing home residents suffer a fall-related injury each year.
About 67% of all fatal fall victims are over the age of 75.
Slip and fall injuries cost American employers roughly $70 billion every year in compensation and medical costs.
Falls account for about 11% of work-related deaths for men and about 5% for women.
Potential Injuries and Other Damages From a Slip and Fall
Slip and fall incidents are one of the most common causes of injury and accidental death in the United States. Regardless of whether they occur at home or at work, slip and fall incidents may result in bone fractures, spinal injuries, and traumatic brain injuries. These injuries can easily lead to long-term or permanent disability, lost income from missed days at work, and significant medical expenses both immediate and in the future.
Legal recovery is possible after a slip and fall. Most employers must carry workers' compensation insurance to provide economic relief to injured employees. When a private party or property owner causes a slip and fall injury to someone else, the injured victim may decide to pursue a personal injury lawsuit against the at-fault party.
What to Do After a Slip and Fall
If you suffer a slip and fall injury at work, report the incident immediately so you can start the workers' compensation claim process as soon as possible. Any delay could potentially hinder your ability to recover workers' compensation benefits. If an injury occurs on private property, attempt to collect as much evidence from the scene of the accident as possible, including photos of your injuries and the element that caused them. This evidence could be crucial to securing a settlement or jury verdict from a negligent property owner.
Seek medical treatment immediately after any slip and fall, even if you believe you only sustained minor injuries. Some injuries may not show noticeable symptoms right away, so visiting a doctor is the best method to prevent undetectable injuries from worsening.