San Diego Workers' Compensation Lawyer
The workers' compensation lawyers at the Liljegren Law Group have offices conveniently located in San Diego, Oceanside, Escondido, La Mesa, Huntington Beach and Temecula, and provide experienced representation for individuals who are injured on the job or involved in a workplace accident. If you are injured on the job in California you should contact one of our attorneys as soon as possible. Our San Diego worker's compensation attorneys will help you seek the payment of or reimbursement you may be entitled to under California's workers' compensation laws which may include:
Medical bills
Hospital bills
Lost earnings or wages
Physical therapy
Rehabilitation training
Medications
Future loss of earning capacity for permanent injury
Workers' compensation laws entitle employees to certain benefits when a personal injury  – such as a spinal cord injury – is suffered in an accident arising out of and in the context of employment. Most employers are required to carry workers' compensation insurance and so, for all practical purposes, all workers are covered. Benefits may include temporary total disability benefits while you can't work, payment of your medical bills, permanent partial disability benefits, or total disability benefits. If you have suffered a loss because of a workplace injury, you should seek an San Diego workers compensation attorney right away to determine your benefits and protect your interests.
How a San Diego Workers' Compensation Attorney Can Help
An attorney who specializes in workers' compensation and employment law can be a terrific asset for any injured employee experiencing issues with a workers' compensation claim. The right attorney can not only make the filing process much easier, but he or she can also handle communications with the insurer and help the employee resolve any issues that come into play later. Many workers' compensation claims lead to personal injury lawsuits for example if you are a truck driver and was involved in a serious truck accident. Third-party claims when the benefits are not enough to cover an employee's losses, and an attorney can help an employee in this situation explore those options.
California Law for Workers' Compensation
California workers' compensation is a no-fault system, meaning that injured employees need not prove the injury was someone else's fault in order to receive benefits for an on the job injury. According to the California Labor Federation, over 780,000 workers' compensation claims are made each year in California.  Most workers' compensation disputes in California arise over whether the injury was sustained on the job or how much and what types of benefits the injured worker should receive. Our attorneys have many years resolving workers' compensation issues in California and can help you pursue the benefits you deserve. Contact our office today for a free legal consultation:
Steps to take when injured on the job
Report the incident to your employer
Obtain the medical treatment you need
Contact an experienced attorney at the Liljegren Law Group
The workers' compensation attorneys at the Liljegren Law Group are experienced in handling workers' compensation cases and will help you understand all of your rights and obligations. Contact our office as soon as possible at 619.312.6703 to ensure all legal deadlines are met and to safeguard the protection of your employee rights.
For further information about California's workers' compensation laws or to discuss your specific workplace injury contact our office today at 619.312.6703. It is important to have experienced workers compensation attorneys to evaluate the facts of your injury, and to determine how to maximize the benefits available to you. In order to obtain fair and just compensation for being injured on the job you should contact an attorney at the Liljegren Law Group. Our San Diego personal injury lawyers  have years of success in workers compensation cases and will provide the skilled representation you need to be fully compensated for your injuries.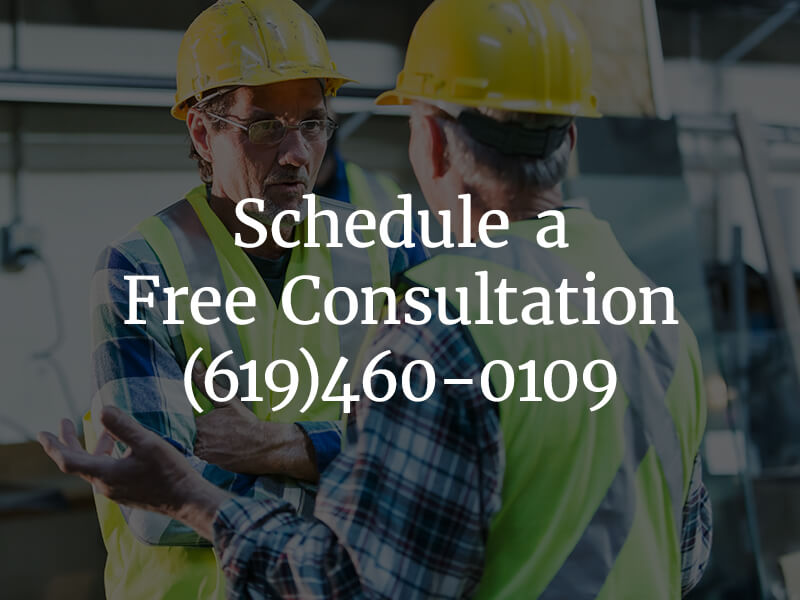 How to File a Workers' Compensation Claim in California
If you suffered an injury at work in California, it is important that you understand how to file a workers' compensation claim. Three main steps make up the process of filing a California workers' compensation claim: reporting the injury, filing the claim with your employer, and filing an application with the Workers' Compensation Appeals Board.
Deadlines

If a single instance caused your injury, the deadline to file a workers' compensation claim begins at the time of the injury. However, many workplace injuries happen because of continued overuse of one muscle (e.g., carpal tunnel syndrome). The injury develops over a long period of time as opposed to one instance. Injuries that develop over time are a cumulative trauma injury or an occupational disease. Instead of the deadline beginning at the time of the injury, the deadline begins when you first missed work, when you saw a doctor for the injury for the first time, or when you should have reasonably known you suffered an injury.

Reporting the Injury

The first thing to do after injury is to seek medical attention. If it is an emergency, you can go to any medical facility. If it is not an emergency, your employer or their insurance company may have a specific doctor they want you to see for your injury. Make sure you tell the doctor that your injury is work-related.
Report the injury to your employer as soon as you know about it. If you wait longer than 30 days to alert your employer, you could lose your right to file for workers' compensation, depending on the specifics of your situation. If you miss the deadline to file a claim, contact a workers' compensation attorney for help.

Filing a Workers' Compensation Claim

Within 24 hours of when you reported the injury, your employer should give you a workers' compensation claim form. Fill out the form with as much detail as you can and then return it to your employer. Your employer will submit the form to the insurance company.
The insurance company determines whether you should receive payment; it is required to cover up to $10,000 of your medical expenses until it decides whether you deserve compensation. If the insurance company has hot denied your claim after 90 days, you can assume they have approved it.
The insurance company also needs to pay you disability benefits within two weeks after the injury if you must miss work. It will have to pay a penalty if it does not start the payments in time or respond to your claim.
Application for Adjudication of Claim
Unfortunately, many workers' compensation claims lead to disputes. Arguments could arise regarding how severe your injury is, whether you need to miss work, or a variety of other things. To help deal with disputes, you need to file an Application for Adjudication of Claim form. In most cases, you must file the form within a year of the date of the injury, the last day your employer provided medical benefits, or the day when temporary disability benefits ended.
An employee may have longer to file an Application for Adjudication of Claim form if the employer or insurance company advanced payments while knowing the treatment could relate to a workers' compensation claim. If the employer or insurer knew the treatment could be a workers' compensation matter, the employee has five years to file the form.
If you are a dependent of someone who died in a workplace accident, you could file a workers' compensation claim for death benefits. You have one year from the time of death to file the application.
What If My Workers' Comp Checks are Late/Not the Full Amount?
Workers' compensation benefits exist to provide relief to employees who suffer injuries on the job. Workers' compensation typically covers the immediate medical costs an injured employee incurs as well as coverage for lost wages. If an injured employee is unable to return to work for some time following an injury, workers' compensation payments are a lifeline to help them stay on top of bills and living expenses. When those checks are delayed or do not contain the full amount you expected, it's vital to know what to do.
Filing Your Workers' Compensation Claim
The first step in preventing late or insufficient workers' compensation checks is to report the injury as soon as possible to start the claims process. Your employer will provide you with the necessary documentation for filing your claim, and an attorney can be a fantastic asset for handling the claims process. Filing for workers' compensation can be time-consuming and frustrating for someone already in pain after an injury, so seeking a reliable attorney can be a great option.
Take the time to ensure your claim documents are complete and accurate. Any omissions or inaccuracies on your part can delay your workers' compensation payments by weeks or even months. After filing, follow up on your claim by contacting the Division of Workers' Compensation (DWC) to check the status of your claim. If anything is missing or inaccurate, they will notify you, so you can address it as soon as possible.
Resolving Late or Incomplete Payments
After filing your workers' compensation claim, your first payment check should arrive within 14 days. If it doesn't, contact the DWC to find out why. If you receive a check that is less than you claimed or less than you feel is reasonable, the DWC can also answer your questions about these issues. In some cases, an employer may refuse to pay for a certain medical treatment if the company thinks it is not justified. You will likely need to dispute the discrepancy in front of a judge, and an attorney can help you prepare for this eventuality as well.
If you experience delays in your payments without just cause, the DWC pays a 10% increase on delayed payments. The insurer should handle this automatically, but if they do not, you can submit a request in writing with proof of service to get the ball rolling and ensure you receive the extra 10% for the delay.