San Diego Burn Injury Attorney
If you or a loved one suffered injuries in a burn-related accident, you may be able to collect damages for your monetary and non-monetary losses. Burn injuries are often complex legal cases as they require extensive medical care and can require a lifetime of accommodations. Fair compensation for your injuries requires not only reimbursement for your past medical expenses, but also the cost of your future care and any loss in earning capacity or life quality.
How Our San Diego Burn Injury Attorneys Can Help
The San Diego burn injury attorneys at Liljegren Law Group can help you defend your right to fair compensation under the law. Contact us to schedule a free initial consultation with our firm today. If you or a loved one recently suffered injuries in a burn-related accident, contact a San Diego injury attorney at Liljegren Law Group. Let us review your legal options today.
Do I Have Grounds for a Burn Injury Lawsuit?
In a personal injury lawsuit, the injured party must provide enough evidence to show that the negligent party (the defendant) is legally responsible for your injuries. This is called the burden of proof. In civil cases like burn injury cases, the burden of proof is lower than criminal cases. In a criminal case, the plaintiff (or prosecution) must prove that the defendant is guilty "beyond a reasonable doubt," but in a civil case you need only prove that it is "more likely than not" that a defendant is responsible for your injuries.
While the burden of proof is lower, it's still essential for the plaintiff to build a strong, factual case with plenty of evidence.
Elements of a burn injury lawsuit:
The defendant owed the burn victim a duty of care. If you sustained a burn injury at work, for example, you would have to prove your employment. Employers have a legally binding duty to provide their employees with a reasonably safe workplace.
The defendant breached its duty of care. This is also called "committing negligence." A party commits negligence when he or she fails to act in a manner that another reasonable person would. Negligence can arise from action or inaction – i.e., failure to provide a safe workplace.
The defendant's negligence directly led to the victim's injuries
The victim incurred specific damages as a result. Examples of damages include medical bills, lost wages, and the costs of ongoing rehabilitation or grafting.
Type of Burn Injury Claims
Burn injuries can occur in virtually any scenario, so it would be impossible to list all of the viable claims for a burn injury suit. However, here are some common examples that could give rise to a burn injury claim:
An apartment complex failed to maintain or test smoke alarms, leading to a community-wide fire.
An employer failed to provide a welder with personal protective equipment.
A construction worker suffered injuries in an explosion resulting from negligent electrical work
A plant failed to properly store unstable hazardous material, leading to a workplace explosion
A gas station caught fire due to a leaking pipe
An oil field worker sustained burn injuries due to improper training
A motorcycle accident was caused by a negligent driver
A car accident was caused by a drowsy or intoxicated driver
A truck driver failed to switch lanes properly causing a serious truck accident
If you recently suffered burns in an accident, you may be able to collect compensation for both your monetary and intangible losses. Contact the lawyers at Liljegren Law Group to arrange a review of your legal options as soon as possible.
What Happens If I Suffered a Burn Injury at Work?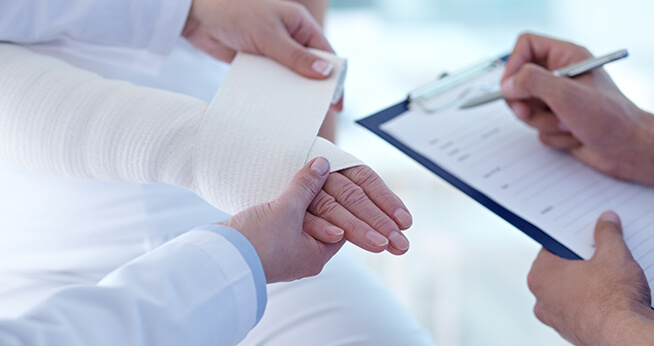 The workplace is one of the most common places for a burn injury. If you suffered burns in the scope of your job duties, your first form of legal recourse will be through the state workers' compensation system. The state of California mandates that most employers carry workers' compensation insurance that kicks in after an occupational injury or illness. California's workers' compensation system provides benefits for certain aspects of your recovery. You can expect to receive compensation for your medical bills and ongoing care, a portion of your lost wages, and any future earnings impairment, if applicable.
Your amount of compensation will depend on several factors, including your degree of impairment, your capacity to earn, and whether or not your injury results in a permanent disability or impairment. Having a workers' compensation attorney to represent your rights throughout the process is invaluable, as the workers' compensation system is complex and can be difficult to navigate.
What If I Am Partially Responsible for an Accident?
The workers' compensation system is no-fault, which means that you won't have to prove that your employer was negligent in order to collect benefits. The main advantage of the no-fault system is that it doesn't matter if you partially caused the accident – you will be able to collect workers' compensation benefits as long as the accident occurred within the scope of your job duties.
How Long Can I Collect Workers' Compensation Benefits?
There are certain limits for collecting workers' compensation benefits, even in the event of a severe burn injury. Typically, the state will award benefits until you reach "maximum medical improvement." Once an occupational physician states that your condition will not improve any more, even with continued intervention, your workers' compensation benefits will cease. You may still be able to collect disability benefits from the Social Security Administration.
What Will I Receive Compensation For?
State workers' compensation laws stipulate that you can receive benefits for your medical recovery and a portion of your lost wages, depending on your employer's policy. However, the workers' compensation system does not provide awards for non-monetary losses such as pain and suffering.
Third-Party Suits
The workers' compensation system limits your ability to file a claim against your employer, even if it was negligent. On the other hand, you're free to bring a third-party claim against anyone who might be responsible for your injuries, such as a subcontractor or the manufacturer of a defective product. An experienced personal injury attorney can help you determine if there is a third party liable for your injuries – contact us to arrange a free case evaluation as soon as possible.
Factors That Determine Burn Injury Compensation
One of the most common questions we hear is, "how much is my claim worth?" While it's difficult to make an accurate prediction as to what a burn injury settlement will be, each case depends on a variety of factors. These include the extent of your injuries, the degree to which a defendant's intentions played a role in your injuries, and the defendant's capacity to pay a settlement. As a general rule, however, burn injuries tend to have a higher settlement amount due to the extensive treatment involved, as well as the degree of physical pain and suffering.
In a burn injury case, attorneys must not only consider the cost of your past and present medical expenses, but also a projected cost of future treatment. This often requires testimony from experienced physicians. For example, extensive burn injuries may require several surgeries, including skin grafts and reconstructive surgery. Due to the extensive nature of these procedures, they can often take years to complete. Your attorney must not only determine the degree of your current monetary and non-monetary losses, but also how they are expected to affect you in the future.
Punitive Damages
A defendant's intentions may also affect a settlement in terms of "punitive damages." Punitive damages are different from other types of awards as they specifically punish the defendant for their wrongdoing. They're typically reserved for cases of "gross negligence," or when a defendant acted very recklessly or even intentionally. For example, a manufacturer purposely skipping the testing phase of a product to rush it to market could be guilty of gross negligence. Punitive damages are different from general damages, which assign a monetary value to your intangible losses such as pain, suffering, or loss in life quality. Punitive damage awards tend to be high, so you may have a higher claim amount if someone's intent led to your injuries.
If you want to know how much your burn injury claim is worth, contact the team at Liljegren Law Group. We offer a free initial consultation and offer our legal services on a contingency-fee basis. This means you won't owe any fees unless we secure a settlement or court judgment on your behalf. Fore more information on cases outside of San Diego, visit our California burn injury lawyer page to learn more about work burn injury cases, or electrocution accidents.
Should I Settle or Go To Trial?
Burn injury cases usually follow one of two paths: either both parties reach a settlement before going to trial, or the case becomes a matter of litigation. There are advantages and disadvantages to both. A settlement is a more informal legal process in which the defendant (and its insurance company) sits down with the plaintiff and negotiations begin. Your attorney will fight for fair compensation based on the degree of your injuries, how and where the injuries occurred, and whether or not you're pursuing punitive damages. The most common place where these negotiations stall are in determining non-monetary losses: since it can be difficult to assign a number to your pain, suffering, or loss of life quality, insurance companies will often try to negotiate for less than you deserve. An experienced attorney will aggressively negotiate for fair compensation under the law.
While settlements tend to take less time and cost less, sometimes litigation becomes necessary. Our attorney may suggest trial when negotiations fall flat or the insurance company will only present you with low-ball offers. In a trial, a jury ultimately decides the amount of your monetary and non-monetary losses. While trials can be lengthy, sometimes it's the best chance at getting the compensation you deserve. Your attorney can help give you with further guidance about settling or going to trial.
If you suffered a burn injury and need legal representation, a Personal Injury attorney in San Diego can help. Call us today for a free consultation.