San Diego Elder Abuse Attorney
When our loved ones can no longer take care of themselves, we sometimes have to turn to others to protect them, often paying thousands of dollars out of our own pockets to do so. Unfortunately, some seek to exploit our nation's most vulnerable citizens.
If you suspect your elder family members or friends are being abused, our elder abuse attorneys in San Diego are here to help you. We'll conduct a thorough investigation and are never afraid to take a case to trial!
Why Choose Our Elder Abuse Attorneys
We offer free, no-obligation consultations with a San Diego elder abuse attorney. We encourage clients to ask questions and request tailored legal advice at no charge.
We have a lead attorney with a long history in personal injury law: Scott Liljegren. Scott previously defended insurance companies. He knows how the other side operates.
We have proven our commitment to client recovery with a long history of successful cases. Our firm has obtained multiple seven-figure settlements and verdicts.
We take elder abuse cases in San Diego on a contingency fee arrangement. You will owe us nothing upfront for our legal services, and will only pay when we win.
How an Attorney Can Help
An elder abuse attorney will understand the intricate state and federal laws that may apply to your particular case. For example, all nursing homes in the U.S. must obey the rules of the Nursing Home Reform Act of 1987. This act has safety, quality and performance guidelines for nursing home facilities. Your elder abuse attorney can take care of many aspects of your claim on your behalf.
Contacting the proper authorities. A San Diego elder abuse attorney will have a list of local resources to quickly contact on your loved one's behalf. A lawyer can help you fill out a police report, answer questions and notify the right people within the nursing home's administration.
Making safe arrangements for the abuse victim. An attorney can help your family find safe and appropriate accommodations for your loved one while you initiate a lawsuit. You can feel confident in the safety of the nursing home, hospital or another care center your attorney finds on your behalf.
Conducting an investigation. You can trust the results of an investigation your attorney conducts. Your lawyer will not have ulterior motives; unlike an insurance company that may try to save money through bad faith investigations, your attorney will want to maximize, not minimize, your payout.
An elder abuse attorney from Liljegren Law Group will have the experience and resources to help you with every phase of your case. A lawyer could help your family build a case against a nursing home in San Diego that breached federal or state laws. Discover all the ways our lawyers can help you during a free consultation at our firm. Contact us today.
How To File an Elder Abuse Lawsuit
An elder abuse lawsuit could bring justice for your elderly loved one. A lawsuit could force a nursing home to take responsibility for its negligence or misconduct. It could expose unsafe or abusive practices at a local nursing home in San Diego – potentially inspiring new facility policies and preventing elder abuse in the future. Finally, it could lead to financial compensation to help your loved one through this difficult time.
Build a case. Learn your rights and options with help from a San Diego elder abuse attorney. Then, gather evidence supporting your case against the nursing home. A lawyer can help you collect evidence such as medical records and eyewitness reports.
File your claim within three years. You have three years from the date of the injury or illness to file an elder abuse lawsuit in California. Bring your claim with the civil court in the county where the abuse occurred.
Fight for a positive outcome. Once you file your lawsuit, the nursing home will have 30 days to file a response. You or your lawyer may then enter into settlement negotiations with the insurance company or take your case to trial.
Most nursing home neglect and abuse cases in California reach settlements without needing trials. If, however, the nursing home refutes liability or treats your claim in bad faith, your lawyer may need to take the defendant to court in pursuit of a jury verdict. A verdict or judgment award could result in greater compensation than an insurance claim for your loved one.
Elder Abuse Statistics
The National Council on Aging, which oversees much of our elders' activity, reports that around 10% of all Americans over 60 have endured some kind of abuse. They also estimate that around 5 million elders are abused in nursing homes each year. Of these incidents, only 7% are reported to the authorities.
The nursing home employees taking advantage of vulnerable residents is unconscionable. Know the signs of elder abuse – and when it's time to contact an attorney.
What Is Elder Abuse?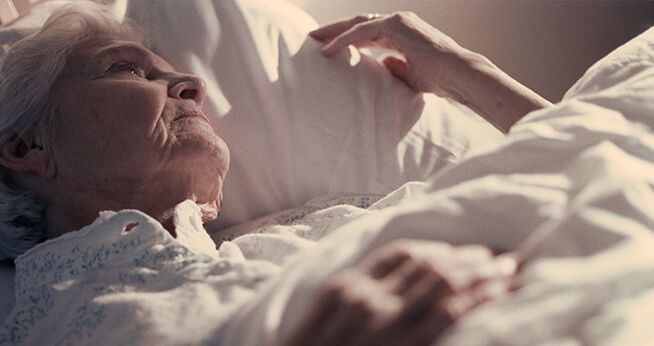 Elder abuse is characterized as any offense that hurts a senior physically, emotionally, mentally, or financially. An "elder" is generally defined as anyone over 60. There are several forms of elder abuse:
Neglect is one of the most common forms of abuse in nursing homes. One of the most common examples of neglect is bedsores, which result when nursing home staff neglects to reposition an incapacitated elder. Other forms of neglect may include malnutrition or failing to provide appropriate supervision to an elder with dementia. When neglect causes physical harm, it rises to the level of physical abuse.

Emotional abuse causes an elder to feel unsafe or insecure in their environment. An example of elder emotional abuse is false imprisonment, in which nursing home staff force a resident to stay in a certain area. They may even deprive elders of tools that help their mobility (walkers, wheelchairs).

Financial abuse of the elderly is becoming increasingly common. A family member or nursing home staff commits financial abuse when they fraudulently use an elder's financial information. Examples may include stealing credit cards, charging excessive fees to their room, or even coercing an elder into changing a will, or deed.
Symptoms of Elder Abuse
Physical abuse can range from slapping or hitting to restraint of an elder. Physical abuse can worsen an elder's health and cause serious psychological ailments.
Symptoms of physical abuse can include:
Bruises or other marks on the body
Marks on wrists or ankles from restraints
Hair loss from grabbing/pulling hair
Scratches or bite marks
Burn marks
Frequent or unexplained fractures or other injuries
Frequent emergency room visits
The elder's caregiver may:
Offer explanations inconsistent with injuries
Fail to give status reports to families
Fail to notify family when elder is taken to the emergency room
Refuse to take elder to the doctor
Won't allow family/friends to visit
What Are the Warning Signs of Elder Abuse & Neglect?
Each case of elder abuse is unique, and some may be suffering from several types at once. When an elder has profound mental issues or dementia, it can be difficult to discern the presence of abuse.
Keep an eye out for these warning signs:
Bedsores, which may be a sign of neglect

Dramatic weight loss, especially within a short period of time

Changes in behavior or spending habits, especially around certain people

Becoming increasingly withdrawn

Seeming fearful of certain people

Broken bones or suspicious injuries from falls

Angry outbursts or fits of depression

Sudden or dramatic emotional changes, which can be a sign of "false dementia," common in abused elders.
These are some common red flags, but it is not an exhaustive list. If you suspect a loved one is suffering from elder abuse, take immediate action to protect their safety.
The state legislature of California has enacted a crucial set of laws in the Welfare & Institutions Code known as the Elder Abuse Act. This code is designed to protect the rights of our elders 65 and older, as well as dependent adults. In California, the Elder Abuse Act severely penalizes those who victimize elderly people.
What to Do When You Suspect Elder Abuse
If you suspect a loved one is experiencing any form of elder abuse, don't hesitate to take action. For their safety, observe the following:
Get them a new place to stay. If they are staying at a nursing home, remove them from the situation immediately. If they are with a relative, find an excuse to get them away from their abuser.
See if you can verify their story. Talk to visitors or coherent residents to see if they can corroborate your loved one's accounts.
Contact the authorities. If there is elder abuse, the perpetrator must pay. Report everything you know to the police or district attorney's office. If they find enough evidence, they will press charges.
Do Seniors Sometimes Hide Abuse?
Yes; there are many reasons why an elder may not speak up when they are being abused or neglected. The elder may:
feel frightened or threatened by their abuser.
be embarrassed by their inability to stop the abuse.
be convinced that the abuse or neglect is "normal"
Find A San Diego Elder Abuse Attorney
Elder abuse is a crime, and you may file a civil suit on top of criminal charges for compensation for damages. Examples of damages include refund of nursing home charges, compensation for medical bills, and the pain and suffering associated with the ordeal. For more information about our elder abuse services, please contact our law firm for a free initial consultation with one of our local personal injury attorneys.