San Diego Work Injury Attorney
When you go to work in San Diego each day, you arrive with the anticipation of making an honest living and bringing home a healthy income to support your family. Sadly, this isn't always the case for some unfortunate individuals. Our San Diego workplace injuries attorneys know that a serious injury can lead to expensive medical bills, the inability to work in the future, and a loss of financial security.
At the Liljegren Law Group, we work on a contingency fee bases, meaning no attorney fees unless you win. We have some of the most experienced and successful personal injury lawyers in San Diego– see how we can help you today.
Common Causes of Workplace Injuries
Workplace injuries can occur from any number of causes, but certain environments, actions, and requirements increase the likelihood of such injuries occurring. Recent statistics have uncovered a few shocking truths.  One figure says that 150 Americans die in work related accidents every day. Although that figure is much higher than what OSHA states, the data was taken from the Bureau of Labor Statistics' estimates. Here are a few of the most common causes of workplace injuries, regardless of industry:
Overexertion

 Overexertion injuries refer to activities involving lifting, pushing, pulling, carrying, or throwing at work. According to a study conducted by Liberty Mutual, overexertion injuries account for more than $3 million of annual benefit costs. These injuries are usually a result of a lack of training, improper equipment, or inadequate resting periods.

Slip and Fall

The second leading factor of workplace injuries pertains to slip and fall accidents. These usually involve slippery surfaces, uneven stairs, or improperly placed equipment.

Falling

 While slipping and falling is dangerous, falling from a height can be more hazardous. These falls often include falling from a ladder, stairway, roof, or elevated piece of equipment. These types of accidents are serious and can often be avoided with the correct training and safety procedures.

Vehicle Accidents

 Injuries don't necessarily have to take place in the office to be considered a workplace injury. When operating a vehicle for company purposes, auto accidents can be considered work-related. These accidents can usually be avoided by limiting driving and employing proper safe driving policies.

Faulty Machinery

In warehouses, production facilities, and service industries, faulty machinery can often cause serious injury to employees. These can be avoided by regularly monitoring machinery and attending to repair needs.

Repetitive Motion

 Often, workplace injuries don't result from a single, sudden incident. Repetitive motion can gradually lead to injuries. These may include muscle strain due to constricting posture in an office chair, carpal tunnel syndrome from typing, or back injuries from lifting.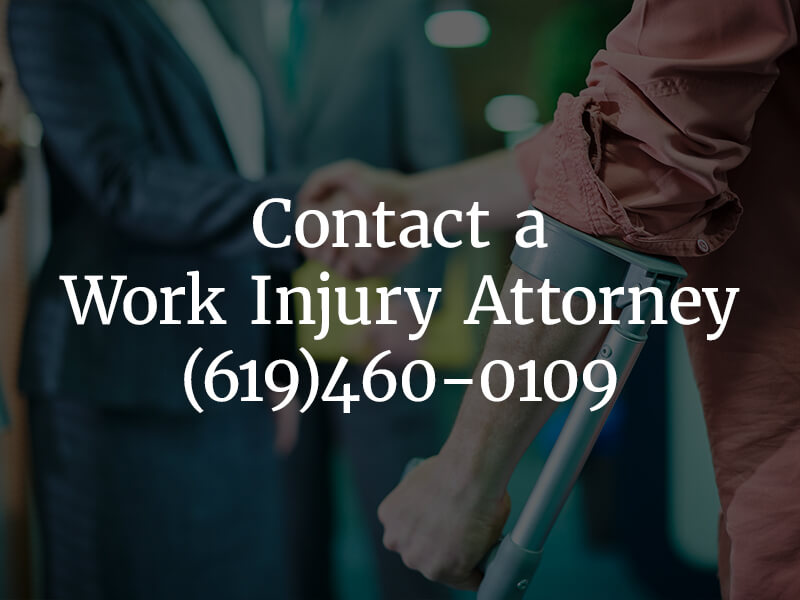 Common Injuries at Work in San Diego
Much as there are a variety of injury causes, there are a number of possible workplace injuries that could result. Some of the most common include:
Back and Neck Injuries

Many injuries, including those related to slip and falls, repetitive motion, car accidents, and overexertion, are related to the spine. These include fractures, disc displacement, and nerve damage. In many cases, back and neck injuries can prevent the individual from returning to work for an extended period of time.

Broken Bones

In falls, auto accidents, and machinery malfunctions, broken bones are commonly reported. While these may or may not lead to long-term side effects, they can certainly inhibit the victim from working for a period of time.

Head Injuries

Some of the most serious injuries involve the head. While some are less serious in nature, such as lacerations or bruising, others can involve the brain. Concussions and traumatic brain injury are very serious and often result from a forceful collision with stationary or moving objects.
What to Do Following a Work Related Injury
If you have recently suffered from a work-related injury, it's important to seek prompt medical attention. Not only will this ensure you receive proper care, but it will also build the foundation for a strong legal case. If your injuries can be directly tied to your employer, you may be able to receive financial compensation. This could include damages for medical bills, lost wages, future medical expenses, suffering and hardship, and more.
Liljegren Law Group – San Diego Work Injury Attorneys
For more information on how you may be entitled to damages for your San Diego work injury, please contact the personal injury attorneys at the Liljegren Law Group today. We will be happy to assist you with your case and guide you through the recovery process. The consultation is free, call 866) 613-9906. For more detailed information on workers' compensation, meet with our workers' compensation attorneys.